(Sigh, this should have been two entries. I'm verbose - where on earth did i get *that* from??)
So, i have a strong desire to not spend *all* of my money in Spain. I'd like to have enough to go to India and Bali and then a little to get set up in Charlottesville for a few months. Jette is the funky way cool director of the art school i'm attending, and after meeting her children i offered her my babysitting services. She immediately said she could send my information to a list of "mummies" that she's connected to in the area, and shortly after she did that, i was flooded with job offers. Hooray! I've taken two; i need time to work in the studio and do yoga and enjoy the city, and with two i'm making 60+ euro a week, which makes my life much more comfortable.
One family lives on the edge of the city. They have two children, and i work with their daughter, Alexandra, primarily. She's five, and precocious and adorable. Her favorite movie is the Little Mermaid. We get along famously. Their mother is very insistent that i only and always speak English. The first day i was working with Alex, she was tenaciously trying to teach me Spanish, asking me to say names of colors and animals - the same approach i was using in English! It's hard, using only English when she doesn't always understand (sometimes i cheat and whisper to her in Spanish if i really need to). Her little brother, Arthur, is terribly rambunctious and i can't possibly teach Alex any English if i'm having to wrangle him too, so he stays with his mom while i'm there, mercifully. The first day i was there, she did have me with both of them, and afterwards i thought, "What have i gotten myself into?!?"
The second family i only started with yesterday. They live in Segur de Calafell, which is a 45-minute train ride out of the city. It's kind of a long way, but i like the train, and the air is cleaner there. They also have a daughter and a son, 4 years and 20 months respectively. It was a huge hassle to get there yesterday, with confusion on my part due to omission of detail on the mother's part. Whoops. But i did arrive, and went from the train station to pick up the daughter at a friend's house, where we lingered and lingered while the girls played. The friend's house was up on a hill with an incredible view of sea in the distance - the town is smallish, and tucked in around mountains on the shore, like Barcelona, but without the large valley that Barcelona occupies. At their house, the mother and i sat at the kitchen table and got to know each other. She spoke to me in rapid fire Spanish, and after a while i realized i'd spent the entire day speaking Spanish and that i was understanding and responding well. In other words, having real, adult conversations in Spanish about things other than, how much does this cost? and where is the train station? She's more interested in straight forward childcare than formal teaching English. She said she wants someone with fresh energy and a different cultural background to spend time with her kids, and "if you want to speak some English, great." The town where they live, curiously, is five minutes from Sitges, which is where the Spanish foreign exchange student we had when i was five (i think?) is from.
Here's what i've been working on in the studio. More cutouts, more collage, but evolving. Metafora students are invited every year to participate in an AIDS exhibition in the city. Initially i was not planning on submitting a piece, but i've since had an idea (inspired by my chicken-wire collage!) and so i'm currently researching and sketching. I've got a pretty good visual brainstorm going. I think.
Here's the final (ha) version of the dancing ladies:
This piece directly inspired by my yoga teacher, likely not the final version. I was so excited about the yellow paper and now i'm that i'm using i'm less than enthused about the results.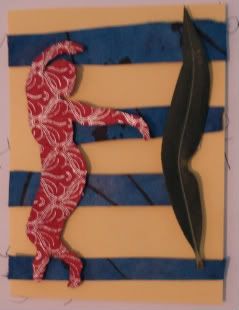 Same deal with this one, the yellow paper cut-outs, i believe, have got to go. I've pulled them off since this picture:
Oh yeah, ick. Those should not come back. Anyway, moving on...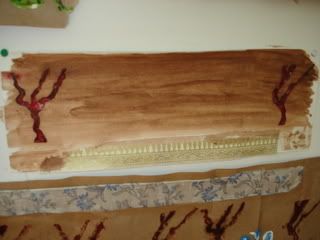 No idea what will go between the trees.
I'm quite excited about this painting below. I used a hand-printing technique that didn't go quite as i'd planned, but i liked the way it turned out anyway. I used the sheela-na-gig pattern from the other piece to create negative space, as well as leaves and organic material collected from a nearby park. After the printing part, i used the leaves as a stamp. To take care of my aversion to white paper these days, i brushed over the whole thing with a tint when i was finished.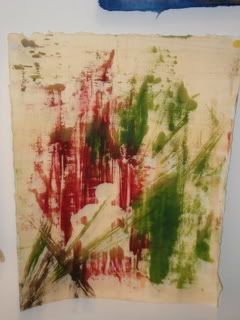 This one i made with a similar hand-printing technique, but i used a jar, and then more leaf-stamps afterwards. I am soooo rebelling against what i learned in painting class at Centre. Or maybe i'm building on it. Yeah, that's it, evolving... Whatever, i like it quite a lot, maybe even enough to let the paper around it stay white.
I'm floating the idea of the sheela cut out on this one, too. I just love her! Though maybe the dancing lady would be better on that one...
And here's my latest effort. The leaves i used to "stamp" onto the pages with looked so pretty i couldn't just toss them, so they became this: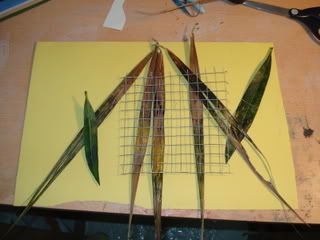 I'm still figuring out how to get the wire to stay. Sew it to the paper, probably.
Don't worry, i can still draw people.