On Thursday, Ethan and i went to Figueres, a town almost to the French border, to see the Dali Museum. We got on the train early in the morning, and an hour and a half later i was thrilled to see the Pyrenees mountains in the distance!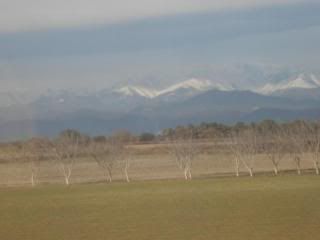 There are several, of course, but this is THE Dali Museum - the one he put together himself, which is what makes it so very amazing. It's supposedly the largest surrealist object in the world, and i believe it. It's so much more than a gallery where paintings hang; the whole thing is one big installation. It's like walking through one of his images. I LOVED it. We both did.
The building that houses the museum is a theater that was damaged during the war, and when it was rebuilt, it was rebuilt specifically for this purpose, but Dali apparently loved the idea that it was a theater and so it wasn't changed much, to my understanding. There's a courtyard that houses this sculpture: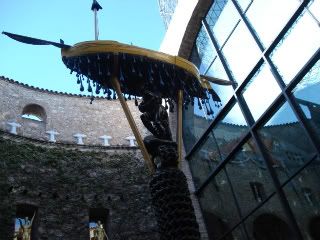 Inside, there's a stage like setup where there's a massive, massive painting, and the tiers of the theater where the seats would be have been enclosed to make gallery hallways. The wings of the stage also have galleries, and everywhere there are alcoves housing curious installations, like
this sculpture
which included some kind of piano and the whole thing had music playing in the background.
One of my favorites was a piece where you walked up to a hole in the wall, looked in, and discovered a magical wonderland on the other side.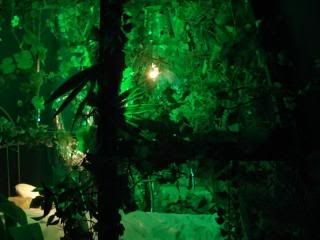 One whole room was taken up by "Portrait of Mae West," and you had to climb up this small staircase to get in the right place to view it. Coming in, it looks like
this
, and from the staircase, you see...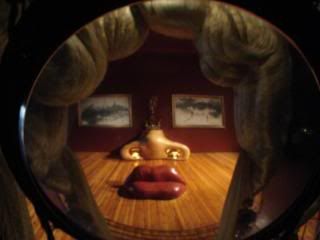 I was also excited to see a lot of prints and drawings, which aren't usually featured, seems like the curators pass over them in favor of melting clocks.
I also loved
this drawing
of his wife, Gala, who features prominently in his work. It looked also to me like some of the signatures on the pieces said both Gala and Salvador Dali. I wondered if she assisted in his pieces or if some of them were hers and she didn't get any credit.
After the museum, we went to this restaurant i had found online the night before, the only vegetarian restaurant in Figueres, El Cafe del Barri Vell. It was AMAZING. A tiny little restaurant with a funky exposed-beam ceiling and warm red walls with creative but simple food that was clearly prepared with a lot of care.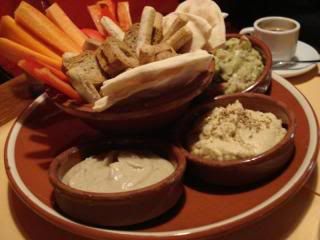 We had this sampler of guacamole, hummus, and baba ganoush, and all three were some of the best examples of each. I also had a salad with avocado, fresh soft cheese, peanuts, and a mint-orange vinaigrette. Here's the best part - it was cheap!
Then we walked around a little while longer, and came home on the train. DEFINITELY worth the travel time.