So! It's been a while since i've updated, and there's been a lot going on. The Expressa't exhibition opened with my installation in it, and an image of it was used on one of the promotional postcards, so that was really exciting. I presented my minimalism project, which went over very, very well - some people really loved it and some people were really offended. I don't have any images of it yet, but i am cleaning it up and adding to it to hang in the exhibition. I've been working on a bunch of sewing projects, i've finished a very fancy dress and a bag using materials i salvaged from a dumpster, finally got the hems done on the first pair of pants that i made, and am planning on working on a couple more things before i lose access to the sewing machine. My classes are over now, and i have my "exit interview" tomorrow, then we set up for the exhibition which opens on Friday.
Ethan got here about ten days ago, and i am so, so glad he is finally here! We have been hanging out at home a lot but also have been to two art exhibits and the beach, and have walked around the city a bunch. We have been through the Gracia neighborhood, where much of Gaudi's work is, and to Santa Maria del Mar, a gothic cathedral that is, in my opinion, one of the most beautiful buildings in the world. We also saw a great collective street art project. Pax and Hawina and their son Willow (who's almost 7) got to Barcelona last Tuesday, followed closely by Sky and Kassia, ex-members of Twin Oaks and good friends. So, this group that we are calling "Framily" (friend-family, as opposed to biological family) is almost complete - Angie gets here on Wednesday!! We are all orbiting around Willow to some extent, though i am pulled away by school. Last night we all piled into the big bed in the room that Pax and Hawina are staying in and watched "Stardust", this great kids' movie with Robert de Niro and Michelle Pfeiffer. Loved it, and loved the feeling of all being together, much better than being on my own all the time.
However, Pax, Willow, and i all have colds. Sick again! Hopefully it is something in the air in Barcelona and it will get better once i leave... one good thing to look forward to about leaving.
Ethan and i are hoping to go to the Dali museum in Figueres, but it is a good train ride away, almost to France, so maybe we will do that this coming weekend, or sometime in the week between the exhibition and when we leave for Amsterdam, on the 21st. My time in Barcelona is winding down quickly!
Mara, a classmate of mine, took this picture of the opening of Expressa't.
Here's Ethan looking at some boats. We thought they were - or at least one of them was - battleships.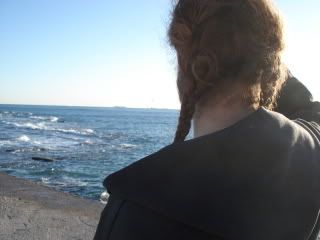 When we went to the beach, we sat by the sea for quite some time, and Ethan made this nice sand sculpture: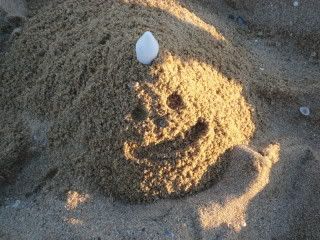 This is my favorite painting from the street art thing we saw, though there was lots of really amazing work out there: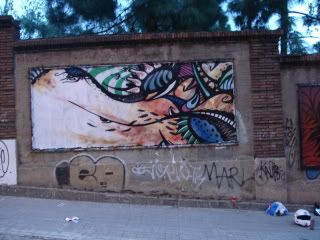 Sunday we all went to Can Mas Deu, the community nearby that i've been to many times. This is where Sky and Kassia are staying: