The end of semester exhibition, [ Fill This Space ], was last Friday, the 12th, and it went well. I wore the fancy velvet dress i made, and i got lots of compliments on it! I was very happy that my framily was able to come - Ethan, Angie, Pax, Hawina, Sky, Kassia, and Willow were all there, as well as some friends of Pax's that happened to be in town that day. The school looked great and there seemed to be a healthy turn out, though i left after an hour and a half.
Some of my work i displayed in my studio, and my main piece was displayed as more of a "showcase" piece, with almost a whole room to itself. Those of you who have been reading know that i've been working with the theme of the body, and this was a continuation, or rather the first step in a project that is the culmination of all these thought processes. At the beginning of the year, i sent a ton of emails out to friends and acquaintances and posted on forums and facebook and myspace asking for people to send me their "body stories" - we all have them, and i'm fascinated by how they affect us and how we carry them within us. The response was completely overwhelming. I was humbled by how many people chose to share some very raw and hard things with me; as well i received poems and ecstatic tales of joy. So, naturally, i froze. I had no idea how to carry on, how to do this justice. It felt like i had been given a great responsibility.
Then we got to the "Minimalism" theme at school, and though i was quite skeptical at first, after hearing the arguments for minimalism, i decided that instead of trying to create some elaborate, showy, complicated work for the Body Stories, the best thing to do was just to let them speak for themselves. So what i decided to do was to make simple white plaster casts of bodies - no faces, just bodies, mostly torsos, in different positions. Then i put one line from each story, in black transfer letters, directly on the cast. I displayed them very simply, though i'd toyed with the idea of making like forty of them and filling the whole wall, but i wanted each individual to be able to speak for itself.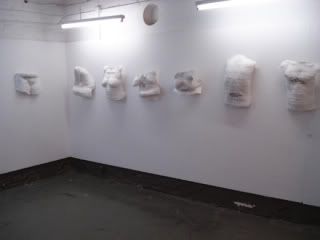 I will only post about half of the pieces as close ups, but i should let you know that most of the stories i got were about hard experiences (to put it mildly), and so it may be triggering for some folks to see this stuff.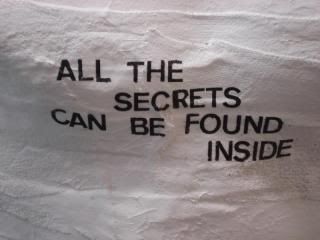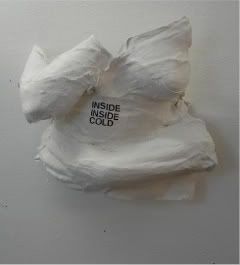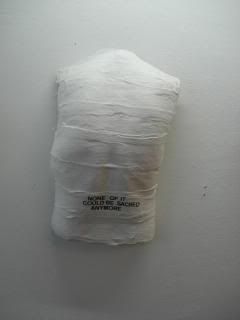 I was very, very happy with the way this came out. Unfortunately due to cost constraints, i'm leaving these pieces behind. However, i'm proud enough of it and i think it's important enough that i intend on pitching it ruthlessly to galleries and remaking it when i get back to the states.