When i was three, we had an exchange student from Spain - from Sitges, to be precise, which is within Catalunya, and only about an hour's train ride from Barcelona. After thinking about it and being busy and not getting around to it and forgetting, i finally got in contact with her and we met for lunch last Wednesday!
It was a little strange, meetings like this have a high potential for awkwardness. The last time we saw each other i was maybe 7, when she surprised us with a visit at Christmas.
And twenty years later....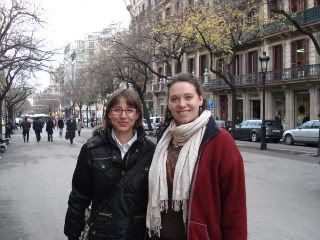 She took me out to a restaurant in Gracia, the artsy, high-end fashion area of Barcelona that is home to lots of Gaudi's work. The place we ate, Cerveseria Catalana, was very typically Catalan, as one might imagine from the name. We had tapas, and she introduced me to a
Catalan onion dish
that was delicious.
Roasted green onions, from which one peels the outer layer, then dips the soft white part into a sauce made of oil and vinegar, roasted red pepper, spices and some other ingredients. Yum!
We barely made it - she was leaving for Prague with her family the next day, and i would be gone by the time she got back, so it really was our last chance to meet, and i am really, really glad we did!